moldings and trims
devil is in the details, and adding decorative trims, appliques, corbels and rest to your kitchen cabinets will give your kitchen complete, finished look. and to make sure that the room is just as beautiful as the cabinets, we carry wide selection of primed pine moldings (all in 16' pieces, call or email for prices)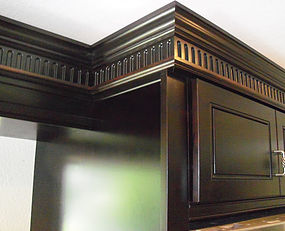 crown molding is the most popular accessory for any kitchen, if there is an unsightlygap between your cabinets and ceiling, cover it with crown! there are many different configurations, including rope, dental, royal, etc.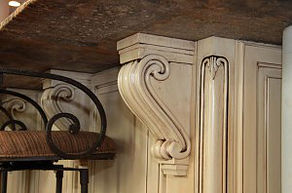 corbels are generally used to decorate the space under the counter top overhangs. beautiful carved corbels are a more affordable alternative to island legs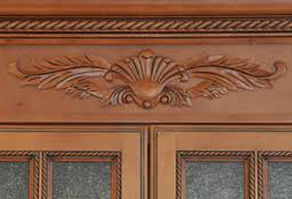 APPLIQUÉS and classic cabinets are a match made in heaven! those small yet very elegant onlays instantly upgrade the look of your kitchen to a more expensive one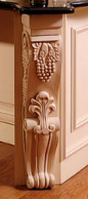 decorative legs are used to upgrade the look of your island, as well as hold up the overhang. from carved to simplistic ones, legs are a beautiful addition to a classic as well as modern kitchens.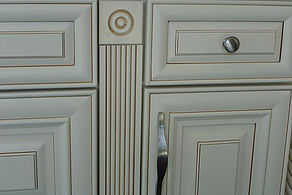 fluted fillers are perfect, when you need to decorate the space between the cabinets, also used to accentuate a particular part of the kitchen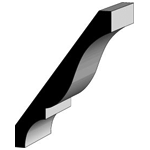 classic crown is used to decorate connection of the wall to the ceiling. it comes in variety of sizes and profiles, the crown can completely change the look of the room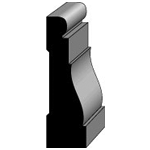 classic casing, if you are going for a simpler look. with sizes ranging from 2 1/4" to 3 1/2, you can combine different width on doors and windows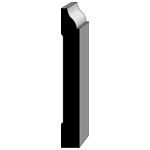 base board molding is another essential trim for every room, new, fresh baseboard will make you entire house look brand new. from 5 1/4" to 3", you can pick one to fit your walls.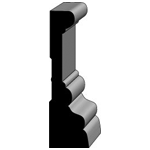 Windsor casing is one of the most popular casing profile, at 3 1/2" it's a perfect molding to frame your windows and doors, giving your home classic, colonial look